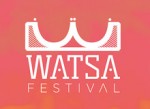 From 11 to 14 June 2015 in Marseille (13)
www.watsafestival.com
The 2nd edition of WATSA Festival was held from 11 to 14 June 2015 on the beaches of the Prado in Marseille.
This sportive and musical event included an international BMX competition, demonstrations of extreme sports and an electronic music festival on the beach. For this second edition, the festival moved from the Bowl de Marseille, the famous skatepark, to the shorefront, where it set up a skating area: the impressive FISE ramp.
WATSA Festival is a one-of-a-kind event that combines sport, music and street art. Free during the daytime, visitors have the opportunity to try out different sports such as kayaking, motocross, stand up paddle, climbing, BMX and slackline. As night falls, music takes centrestage.