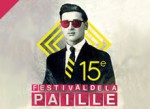 From 29 August to 30 July 2016 in Metabief (25)
www.festivalpaille.fr
In 2000, a little seedling planted by a few young people from the Upper Doubs led to the creation of "Le Collectif Organisation". The aim of this association is to organize a festive and musical event to entertain and to revitalize the area that it lives in. This event is an opportunity for a few local artists to promote their talents live on stage, around a giant barbecue.