Private labels
Cherry Rocher has been partnering with retailers since private labels first appeared.
We specialize in the highly-specific fruit crèmes, fruit aperitifs and liqueurs, and plant markets.
We provide our knowledge of orchards, of selecting fruit and of pressing to distributors.
Our industrial facilities are flexible and productive: three filling lines are tailored to various bottle formats and models and to different types of labelling.

Established on the outskirts of Lyon, close to the major motorway networks, we benefit from highly-effective logistical infrastructures.
Fruit crèmes, liqueurs, aperitifs
10 blackcurrant crème references
12 blackberry crème references
Raspberry, white peach, wild peach crèmes
Other fruit: strawberry, apricot, etc.
Leader for guignolets
Gentian liqueur
Other plants: verbena, etc.
Coconut, coconut + rum liqueur, etc.
Modern liqueurs
Ready-to-drink cocktails
… and any other fruit or plant that you would like a reference for, using your own, bespoke formulation.
Our arboreal heritage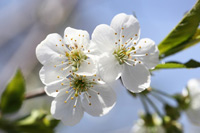 Since the 19th century, CHERRY-ROCHER promotes the planting of orchards with selected plants.
Today, our company directly cultivates a vast orchard of 6,000 cherry trees of several varieties right at the heart of the Ardèche region. Our in-depth arboriculture experience is beneficial for selecting raw materials purchased from different production areas. This ensures the origin and quality of all our products.